Corporate Name
Primary Partners Co.,Ltd.
Established
January 2008
Head Office

2-18 6F Agebatyou,Shinjyukuku,Tokyo,162—824,Japan
03-6869-5696
http://www.primarypartners.jp

Capital
10 million yen
President
Yoshihiro Abe
Business Details

Consultation on food business and operations
Manpower development
Foods / Food related materials sales and wholesales
Menu and product development
Food business planning, development, operation and management
Planning and operation of various seminars
Corporate matching

Partner Ship

PowefulBrains Co.,Ltd.
Food Stock Limited company
Rossi International Co.,Ltd.

Affiliates
Association

Japan Authorized Cooks Association

Main Clients

REAL PASCO BAKERIES Co.,Ltd.
Hokkoku Co.,Ltd.
NIKO Co.,Ltd.
Fujii Consulting,inc
Senkichi Co.,Ltd
PowefulBrains Co.,Ltd.
Tag Holedings Co.,Ltd
YASUDA Development Co.,Ltd.
SPRING Singapore
Société Bouton D'or Co.,Ltd.
KUSAMA Co.,Ltd.
POKKA FOOD(SINGAPORE)PTE.
SUN GLOBE FOOD Co.,Ltd.
Patina Co.,Ltd.
Simptia Co.,Ltd.
Ueshima COFFEE Co.,Ltd.
CHANTE CLAIRA COPORATION
Fierdam Co.,Ltd.
Live Promorsyon Co.,Ltd.
Grobal Media Corporation
Ginza Cozy Corner Co.,Ltd.

Menu Development

Fast foods
Dining Cafe
Italian restaurants
Dessarts
Drinks
Advisory

Tag Holedings Co.,Ltd
Senkichi Co.,Ltd(YOSHINOYA HOLDINGS CO.,LTD)
AYABE YOUGASHI Co.,Ltd.
K.K. Satis factory International
Seminar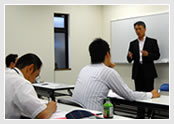 [Operation seminar]Fujii Consulting,inc
[Management seminar] Fujii Consulting,inc
Latest information on Food Business in U.S.A.
PowefulBrains Co.,Ltd.
SPRING Singapore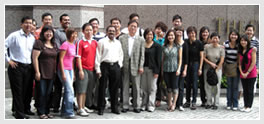 Assisted planning and participated in Japanese food market / business tour by SPRING Singapore in 2009
Feb 2009 Food business tour
Jun 2009 Food manufacturer tour
Feb 2010 Food business tour
Jun 2010 Food manufacturer tour
Employee Training
Service Training
REAL PASCO BAKERIES Co.,Ltd.
Store Manager Training
Management Proposal
Tablewares
Kitchen equipments
Office automation equipments
Energy saving alternatives
Waste management
Stocking proposal
Sales route proposal
Restaurant Production
| | | |
| --- | --- | --- |
| Apr 2008 | Harrod's Cafe & Product Shop in Iruma Outlet Mall | NIKO Co.,Ltd. |
| Oct 2008 | Curry Noodle 'Senkichi' Low-pricing Format | Senkichi Co.,Ltd |
| May 2009 | Italian Cafe & Bar 'Qaattro Cose' | Patina Co.,Ltd. |
| Oct 2009 | Hot Dog Cafe in Yokohama | RAGGIANTE Co.,Ltd. |
| Nov 2009 | Dining Cafe in Tsukiji | YASUDA Development Co.,Ltd |
| Jan 2011 | Le Pain Quotidien, Japan flagship shop | Hokkoku Co.,Ltd. |
| Jul 2011 | Bakery Cafe in FAUCHON | REAL PASCO BAKERIES Co.,Ltd. |
| Sep 2011 | Korian Restaurant haru haru | Haru Haru Co.,Ltd. |
| Aug 2012 | Cafe Tea for Tow | Melbo Clothing.Inc. |
| Dec 2013 | Wa-Cafe Engasane | Inaba Group Coporate |
| Apr 2014 | Kuidon Syokudo Reataurant | DAISHOGUN Co.,Ltd. |